Was watching a movie today, a crappy australian movie about how some convict escaped in tasmania, became a cannibal and then went on to breed other inbred cannibals that still existed into the present day, etc etc. great premise, poorly executed.
Anyway, in one scene the escaped convict was being tracked and was impressed to see they actually used harlequin danes to depict the type of dog that would be used-
Which I think is probably fairly accurate.
There is very little mention or record of the dogs used to manage, intimidate, punish and track convicts in early australia, but they definitely existed and I think it's pretty safe to assume they must have been similar to the bloodhounds of the new world.
There is just mention that the convict prisons and chain gangs and etc would be guarded by "large ferocious dogs" and some mention of said dogs being used to hunt down escaped convicts, but they never really say what they are, which is pretty typically australian I think, to not bother to come up with a name for them, and for this reason they're now totally forgotten.
The only other thing I can really find is this artwork of the dogs used to intimidate convicts-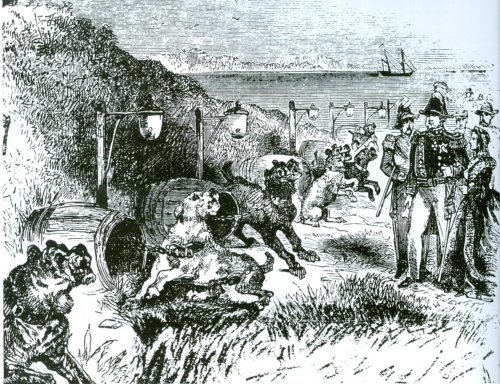 Could well be remembered like the "cuban bloodhound" if only someone coined a name for them.